Access/Links to Airlines /Japanese Website
Access from Nikko Station to the hotel.
Nikko Station ~ Yumoto Onsen bus stop
(Bus stop No.1 at the Nikko Station, heading for Yumoto Onsen,
for 75mins by bus, 1650yen for one-way)
Free pick-up bus (need reservation in advance)
Leave Tobu Nikko station for Okunikko Konishi Hotel at 13:30
Leave Okunikko Konishi Hotel for Tobu Nikko Station at 9:45

Neibourhood around the hotel

Free shuttle bus

2 hotels (Okunikko Konishi Hotel and Okunikko Kogen Hotel) drives in turn day by day. (You can take each bus)
You need to make a reservation in advance by email or on the phone to take a free shuttle bus.

* Tobu Nikko station at 13:30 bound for Okunikko Konishi Hotel.
* Okunikko Konishi Hotel at 9:45 bound for Tobu Nikko sta.
<Bus Stop at Tobu Nikko Station (not "JR Nikko Station")>


When you go out of Tobu Nikko Station, we are waiting for you at the sign
board of "Nissan rental-a-car".

Tell your name to the driver getting on the bus.
Just in case you can't find us after 13:30, please call us at
0288-62-2416.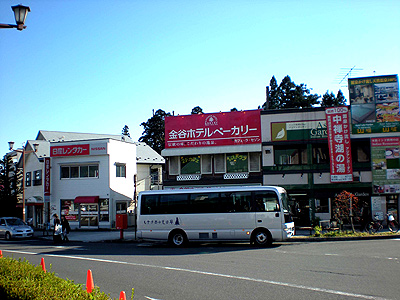 Our shuttle bus in front of the dark pink signboard
World Heritages and recommended area of Nikko and Okunikko
Nature Map

Time table: Dec.1 2018--- Mar.31, 2019